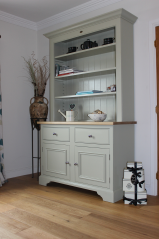 Teulu Bespoke Furniture has been set up as an expansion of our existing, established building company.
Being a family of exceptional joiners and cabinet makers, we have always produced our own joinery for our building projects. Often making bespoke cupboards etc as a one off piece for our clients.
It therefore made sense to tap into this knowledge and passion to develop a range of standard pieces of free standing quality furniture and also totally bespoke pieces unique to one particular commission.
Working with our clients from start to finish, we will create beautiful pieces to your exact specifications. You can be totally creative and unique.
Using traditional methods we specialise in manufacturing and fitting bespoke, handmade solid wood furniture.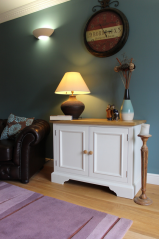 Using only the best quality materials and fittings we will produce an exceptional piece of furniture that will enhance your home literally for a lifetime. The beauty of hand painted is the flexibility to change the colour with a quick re-paint should the mood take you.
Being a small team you will find a very family friendly atmosphere. The same personnel will help with design & inspiration before heading onto the machines to make your furniture. If fitting is then required it will potentially be the same person fitting. This ensures continuity for you, establishes a good relationship and means that an immense amount of pride and passion is taken in the finished article being delivered and finished to the very highest standards.
Customers are always welcome to pop into our workshop and showroom to discuss ideas, ask questions or take some inspiration - please phone ahead to make an appointment.